UK VERSION
(scroll down for the Danish version)
Interview with Valeria Napoleone by Augusta Atla
MAGASINET KUNST (DK) May 2020
"It will take much longer for female artists despite incredible talent, simply because the power system of art is not ready for them yet." Valeria Napoleone
We need to critically question the established routines, in which curators, museum directors, gallerists, art gallery managers and not forgetting press representatives, journalists and art collectors – yes, even women with power – opt out of showing female artists?
Since Ancient Greece, European civilisation has been based on the capacity of the work of art to communicate and cooperate with the religious and political convictions of the time. Throughout the history of the Western world, art has, to a large degree, helped to determine the virtues we value today. But it has also partly co-curated our memory, our sense of self and our political structures.
Today, the question is whether, despite first-wave feminism and women's hard-won right to vote, Europe is ready to accommodate the female gaze. Whether our Western visual culture is geared to facilitate women's active creation, their creative aspirations and participation in power, thereby also allowing them, as visual artists, to help create images for our culture that will become part of our future collective heritage and memory.
As a visual artist raised by an art historian, and exposed to the history of Western art from an early age, even as a child I realised that art history was chauvinistic.
Our academic programmes in Europe are still failing to add, elucidate and emphasise the importance of female artists to the history of art. The same applies to the curatorial machine, in which we artists must put our faith. The problem is that the contemporary art scene and market are still sexist. My generation of visual artists, art historians and curators were brought up on the basis of methods and art history developed and crystallised largely by chauvinist men and women. When it comes to silencing women, Western culture has had thousands of years of practice.
Danish and international academic education, and exhibition and museum practices have a huge job of research ahead of them, if we are to survey art history thoroughly without the censorship of gender politics.
On 13 March, in a press release the Prime Minister of Denmark made it clear that Denmark was closing its national borders due to the Coronavirus. This serious situation is changing the whole of Europe's economy, focus and health situation, given the family tragedies, deaths and unemployment. We live in very difficult and changing times.
To discuss the current state of things in the visual arts, I talked (online) to the art collector and patron Valeria Napoleone. Based in London, Valeria Napoleone has been collecting works by female artists for two decades. Valeria Napoleone is 50% collector, 50% patron.
AUGUSTA: You started collecting in the early Nineties "to redress the gender imbalance and create a collection that focused only on female artists". You own a collection of 400+ works by women artists. On this path of yours, what has surprised you most?

VALERIA: My biggest surprise was my own reaction when I encountered contemporary art, or should I say artists, in the mid 90s in New York. It totally changed my life and created a life path. It was the beginning of a life-long passion of collecting and supporting living female artists.
Since my introduction to the artistic circles, I have cherished dearly the intense and personal conversations with the artists. From the very start of building my collection, I have been interested in supporting women artists which art practices are overlooked, and where I could make a difference.
I have a strong sense of purpose and duty when I support great women artists.
After collecting for 23 years, I am very proud and respectful of this strong support system of people around me. These are people who trust what I do and stand for. They know I do not speculate or buy to sell, and that I take great care of the works entering my collection in many different ways. Artworks constantly travel for loans to museums. My family lives surrounded by artworks and rotating installations and enjoys the many dinners I host at home to support artists, their projects and institutions, and the many events and talks. I feel so privileged to get to support the most amazing projects and to collect the best art. I am very proud that my support contributes to the mechanism of making art.
Collecting comes with genuine passion, dedication and decades of consistent work. I believe that it has been my genuine commitment for over two decades that has created solid ground for people to trust that this is not a temporary fling, but my life mission and passion. This is a life journey for me and I enjoy what I do, every bit of innovation, progress and research I am able to fuel. I have been having the time of my life for the past 23 years. It has been a journey of personal growth and discovery, involving so many special people. This is why I do not have an art consultant.

AUGUSTA: What cities you find most innovative when it comes to not overlooking talented women artists?
VALERIA: I buy and discover work globally. But the most vibrant cities for me are New York and London. New York is where I grew up, started as a collector and started my path. London has seen me growing into my art role and has given me such monumental support in moving forward with a vision that only recently found an audience.

AUGUSTA: You once said: "Communicating with the artist is the salt of my life." Can you try to describe how all these artworks and living with them day in and day our has changed your understanding?

VALERIA: I grew up with a father who really empowered me and my sister to be whatever we wanted. He always inspired us to do what made us happy. He even encouraged us to wait and marry late. "You do not need a man," he used to say. So, I felt it naturally to pursue uncompromisingly happiness, my dreams and what I really love, and to seek it out.
The art and the artists I surround myself with have inspired and empowered me in the same way that my father did earlier on. They remind me to find my own path, to make it, and not to fit into anybody's shoes. My life with art kindles my passion. It makes me happy, fulfilled and rewarded. The talent and courage of so many women artists around me make me realise I have no choice, but to do what I do and feel the happiness. What impresses me most is talent and I long to be surrounded by it.

AUGUSTA: As an artist who has been in the visual art 'business' for many years, what is most daunting is the fact that many female professionals in the art world also sustain the chauvinism and give male artists preferential treatment, without realising that they are doing so. Have you also encountered this attitude in the profession or as a response to your collection from women?

VALERIA: There has been, and still is resistance to, and suspicion of my position and collection – even from women.

AUGUSTA: The figures are unfortunately very negative for women. Works by women accounted for only 2% of the total sales at auctions in the period 2008-2019.1 At art fairs and in galleries, women artists still represent between 0 and 30% of the artists shown. At the largest art fair in the world, Art Basel, female representation has been less than 25% in the last four years. Yet women are still much under-represented in galleries, private and museum collections, museum shows and at art fairs. If the museums themselves do not change this vicious cycle, who and what can?

VALERIA: The majority of collectors are men, and they have an issue with women. Male gallerists included. But not only men. Women in powerful positions in the arts, whether gallerists or art collectors, are often less supportive than men. There is something so flattering about being included in this boys club that the art market is.
It will take much longer for women with incredible talent, simply because the power system in art is not yet ready for them. That is also why women artists are often discovered when they are dead or in their 80s. But we should not accept that. We need to take action and goad the system to acknowledge this problem and be proactive.
There is so much superficiality and not enough seriousness when it comes to making a real change with commitment, addressing it properly and taking action. I hear so much noise about female artists, yet still little action.
It is the duty of museums to address these gender issues. Then the market and the collectors will follow. If museums do not activate and stand behind this change, it is going to be very difficult. Too many museum directors are seduced by the art market, and the market does not support women. It means that museums put on exhibitions that merely reflect the endeavours of the few big, pocket galleries in the world. Giving that power to a very small group of people with very little interest in women artists is a big problem.
One of the things to do to activate this change is not only to create awareness, as it is happening now, but also to take it to the next level. We need to support and encourage the academic world to research and publish much more about the work of women artists. Academic institutions have the opportunity and duty to foster critical writing about, and analysis of female artists: to readdress art history for posterity.

AUGUSTA: Female artists almost have to go right back to the 'origins of art', scrutinise the use of the artwork across the ages and thereby gradually invent their own language in the face of centuries of traditions, inventions and perceptions. Your collection is certainly part of this innovation and research. Are you planning an online archive and/or book on you collection?

VALERIA: My collection is already catalogued in our archival system, but not accessible to everyone. Never say never. I am always revising what I do and the way I do it. If the moment comes when I feel that this contribution is really needed and that it could make an impact, I will consider it.

AUGUSTA: There are certain venues in Denmark, such as Cisternerne, HEART and Copenhagen Contemporary, whose exhibition programmes feature predominantly male artists. This does not reflect the work of the countless talented female artists both in Denmark and abroad. Nor, when it comes to the acquisition of works by female artists by museums in Denmark, are the figures yet positive. In Denmark throughout the entire period from 2004 to 2019, only 22% of the acquisitions were works by female artists. The number of female artists shown in solo exhibitions was 29%. The figures are worrying, since it is the museums and major public art galleries who should be leading the way. Only then will the commercial galleries and buyers come into the picture. You are taking a reverse path, against the tendencies of museums and auctions. Do you encounter criticism along the way?

VALERIA: After many years of supporting the work of female artists in institutions and galleries as a collector, but also as a very committed patron, I decided to adopt a much more visible approach. In 2015, I launched the Valeria NapoleoneXX. XX stands for the female chromosome and also for partnership. ValeriaNapoleoneXX is an umbrella platform for projects and initiatives working towards increasing the recognition of art practices by female artists through collaborations and partnerships with institutions and individuals in contemporary art.
XX has three ongoing partnerships. In the UK it has joined forces with the Contemporary Art Society and it funds an acquisition every year of a major work by a female artist to be donated to a different regional museum in the UK. In the US, XX has partnered with the Sculpture Center to fund the production of an ambitious commission by a female artist in the context of her solo exhibition in the gallery, every year or so. Also in the US, XX has partnered with New York University's Institute of Fine Arts to fund two solo exhibitions a year of work by a female artist, in the Great Hall of the institute, curated by a team of four curators selected from the PhD and Master's degree students. The curators are also responsible for creating an educational programme around each exhibition, featuring seminars, discussion, talks and performances.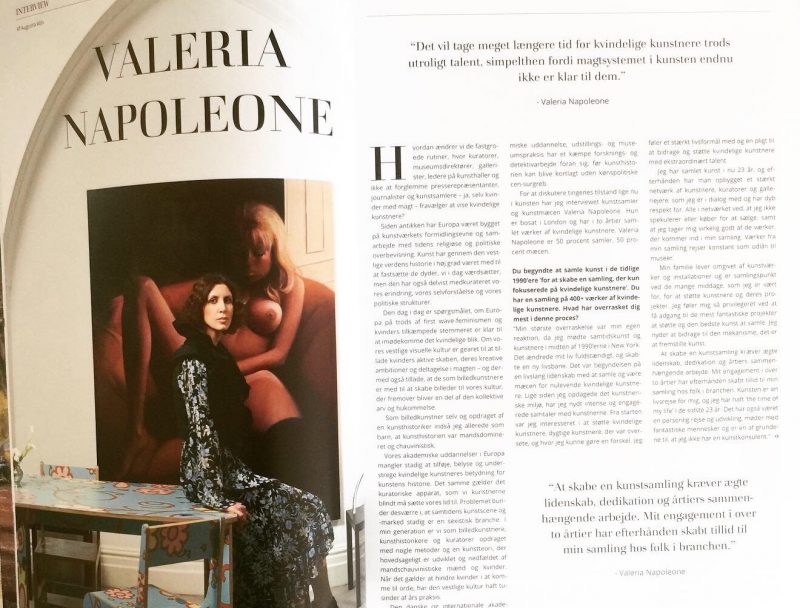 AUGUSTA: I have met a number of male artists who feel threatened by the momentum of female artists since the #metoo movement. Why do you think people are afraid of equality?

VALERIA: Well, these men have to have a reality check! Personally, I have zero tolerance for this reaction from male artists. It is actually quite insulting. This thinking is self-centred and self-righteous, completely oblivious of how women were obscure in the arts for hundreds of years.
They need to develop a better understanding and knowledge about history and current data and real life. Because, unfortunately, we are still a long way off from equality in the arts. If one day we have equality in the art scene, and male artists have the same opportunities as women and everyone else, I wonder how threatened these male artists you referred to will be then.

Neither you nor I, nor the #metoo movement is saying that women artists should have more privileges than men. Quite the reverse. We are working precisely for equal rights for men, women and others. If male artists feel that they are in the wrong 'category' right now (male and white), then let them experience how you (women) have been in the wrong 'category' since the beginning of Western and European civilisation.
We are working and fighting for a world in which museums and curators do a great job, and give equal opportunity to male and female artists. Because this is not even about gender or race; it is about facilitating great art.
I am very proud of serving as the Chair of the Development Committee Studio Voltaire, the most innovative non-profit organisation in London. I have been involved with, and supported them for the past 15 years. Studio Voltaire's programme is not focused exclusively on female artists. My own patronage goes to those gifted artists. I never understood why we are missing out on so much talent just because of gender. My mission is about exposing great work regardless. It is about time do it.

AUGUSTA: As a result of the serious natural disaster resulting from the spread of the Coronavirus in Europe and the West – actually, the world – in what way do you think the art scene will change?

VALERIA: This crisis has revealed the extreme fragility of our global system. We are vulnerable and connected and we must reconsider, we must be innovative now and come up with new solutions.
We need to reconsider mobility and the way we do things and go about our life. An important lesson will be about respecting our planet and, for instance, stopping the travelling indulgence we all have fallen into. The art world in particular, with its thousands of yearly appointments, art fairs, biennales, openings: its logistics, has become an extremely polluting industry. This crisis will force us to take a fresh look at our values, and the way we produce and expose art.
Let's go back to enjoy our local community, to support and engage with those around us.
A new great approach would be to appreciate a long-term perspective in everything. The super-fast pace of the art market in recent years, in particular, has become unsustainable and wrong. For example, the goal of a gallery is not just to do business and short-term sales and speculations. A gallery's core mission is to help artists develop their practice, reach museums, make great artworks enter great collections and art historical writings, and to support them through the good and the bad times throughout their entire lives. Last but not least, these challenging times will reveal many fallacies, let's hope that the old chauvinistic world will become one of those fallacies, against which people will take resolute measures.
AUGUSTA: Thank you for your time, Valeria.
---
See more on augustaatla.com and Augusta Atla's Instagram profile, which promotes female painters: @womenpainters
Augusta Atla's works are currently featured in the exhibition, Astrid Holm & Co at Rønnebæksholm, 8 February – 14 June 2020. The indoor part of the exhibition is closed currently due to Coronavirus, however Augusta Atla's artworks are positioned outside in the garden of Rønnebæksholm are open to public.

---
DANISH VERSION
Interview med Valeria Napoleone af Augusta Atla
MAGASINET KUNST (DK), maj 2020
"Det vil tage meget længere tid for kvindelige kunstnere trods utroligt talent, simpelthen fordi magtsystemet i kunsten endnu ikke er klar til dem." Valeria Napoleone
Hvordan ændrer vi de fastgroede rutiner, hvor kuratorer, museumsdirektører, gallerister, ledere på kunsthaller og ikke at forglemme presserepræsentanter, journalister og kunstsamlere – ja, selv kvinder med magt – fravælger at vise kvindelige kunstnere?
Siden den græske antik har Europa været bygget på kunstværkets formidlingsevne og samarbejde med tidens religiøse og politiske overbevisning.
Kunst har gennem den vestlige verdens historie i høj grad været med til at fastsætte de dyder, vi i dag værdsætter, men den har også delvist medkurateret vores erindring, vores selvforståelse og vores politiske strukturer.
Den dag i dag er spørgsmålet, om Europa på trods af first wave-feminismen og kvinders tilkæmpede stemmeret er klar til at imødekomme det kvindelige blik. Om vores vestlige visuelle kultur er gearet til at tillade kvinders aktive skaben, deres kreative ambitioner og deltagelse i magten – og dermed også tillade, at de som billedkunstnere er med til at skabe billeder til vores kultur, der fremover bliver en del af den kollektive arv og hukommelse.
Som billedkunstner selv og opdraget af en kunsthistoriker indså jeg allerede som barn, at kunsthistorien var mandsdomineret og chauvinistisk.
Vores akademiske uddannelser i Europa mangler stadig at tilføje, belyse og understrege kvindelige kunstneres betydning for kunstens historie. Det samme gælder det kuratoriske apparat, som vi kunstnerne blindt må sætte vores lid til. Problemet bunder desværre i, at samtidens kunstscene og -marked stadig er en sexistisk branche. I min generation er vi som billedkunstnere, kunsthistorikere og kuratorer opdraget med nogle metoder og en kunstteori, der hovedsageligt er udviklet og nedfældet af mandschauvinistiske mænd og kvinder. Når det gælder at hindre kvinder i at komme til orde, har den vestlige kultur haft tusinder af års praksis.

Den danske og internationale akademiske uddannelse, udstillings- og museumspraksis har et kæmpe forsknings- og detektivarbejde foran sig, før kunsthistorien kan blive kortlagt uden kønspolitiske censurgreb.
Den 13. marts, i en pressemeddelse fra statsministeren, blev det klart, at Danmark lukkede sine nationale grænser pga. coronavirus. Denne alvorlige situation vil forandre hele Europas økonomi, fokus, politik og sundhedssituation og vil medføre familiers tragedier, dødsfald og arbejdsløshed. Vi lever nu i meget vanskelige tider.
For at diskutere tingenes tilstand lige nu i kunsten har jeg (online) interviewet kunstsamler og kunstmæcen Valeria Napoleone. Valeria Napoleone er bosat i London og har i to årtier samlet værker af kvindelige kunstnere. Valeria Napoleone er 50 procent samler, 50 procent mæcen.
AUGUSTA: Du begyndte at samle kunst i de tidlige 90'ere 'for at skabe en samling, der kun fokuserede på kvindelige kunstnere'. Du har en samling på 400+ værker af kvindelige kunstnere. Hvad har overrasket dig mest i denne proces?
VALERIA: Min største overraskelse var min egen reaktion, da jeg mødte samtidskunst og kunstnere i midten af 90'erne i New York. Det ændrede mit liv fuldstændigt, skabte en ny livsbane. Det var begyndelsen på en livslang lidenskab med at samle og være mæcen for nulevende kvindelige kunstnere. Lige siden jeg opdagede det kunstneriske miljø, har jeg nydt intense og engagerede samtaler med kunstnerne. Fra starten var jeg interesseret i at støtte kvindelige kunstnere, dygtige kunstnere, der var oversete, og hvor jeg kunne gøre en forskel. Jeg føler et stærkt livsformål med og en pligt til at bidrage og støtte kvindelige kunstnere med ekstraordinært talent.
Jeg har samlet kunst i nu 23 år, og efterhånden har man opbygget et stærkt netværk af kunstnere, kuratorer og galleriejere, som jeg er i dialog med og har dyb respekt for. Alle i netværket ved, at jeg ikke spekulerer eller køber for at sælge, samt at jeg tager mig virkelig godt af de værker, der kommer ind i min samling. Værker fra min samling rejser konstant som udlån til museer.
Min familie lever omgivet af kunstværker og installationer og er samlingspunkt ved de mange middage, som jeg er vært for, for at støtte kunstnere og deres projekter. Jeg føler mig så privilegeret ved at få adgang til de mest fantastiske projekter at støtte og den bedste kunst at samle. Jeg nyder at bidrage til den mekanisme, det er at fremstille kunst.
At skabe en kunstsamling kræver ægte lidenskab, dedikation og årtiers sammenhængende arbejde. Mit engagement i over to årtier har efterhånden skabt tillid til min samling hos folk i branchen.
Kunsten er en livsrejse for mig, og jeg har haft 'the time of my life' I de sidste 23 år. Det har også været en personlig rejse og udvikling, møder med fantastiske mennesker og er en af grundene til, at jeg ikke har en kunstkonsulent.
AUGUSTA: Lige nu, geografisk, hvor ser du kvindelige kunstnere få lov til at trives bedst? Hvilke byer finder du mest innovative med hensyn til ikke at overse talent hos kvindelige kunstnere?
VALERIA: Jeg køber og finder værker på globalt plan. Men de mest livlige byer for mig er New York og London. New York er den by, hvor jeg voksede op, og som inspirerede mig til at være kunstsamler; London derimod har fået mig til at modnes som kunstsamler og har muliggjort, at min samling fandt sit publikum og kom ud til et større publikum.
AUGUSTA: Du nævnte: 'Kommunikation med kunstneren er saltet i mit liv'. Kan du prøve at beskrive, hvad alle disse kunstværker og det at leve med dem dagligt har ændret for dig og din forståelse?
VALERIA: Jeg voksede op med en far, der opfordrede min søster og mig til at være, lige hvad vi havde lyst til at være. Han opfordrede os altid til at gøre det, der gjorde os glade. Min far opfordrede os til at vente med at blive gift og sagde: "Du har ikke brug for en mand."
Det var naturligt for mig at gå efter lykken og det, som jeg virkelig elsker kompromisløst.
Kunstværkerne og kunstnerne, som jeg omgiver mig med, har givet mig den samme inspiration og styrke, som min far tidligere gjorde. Mit liv med kunst og kunstnere tilfredsstiller min lidenskab og gør mig lykkelig.
Talenterne og modet hos så mange kvindelige kunstnere imponerer mig, og jeg elsker at være omgivet af deres historier.
AUGUSTA: Som kunstner, der har været i branchen i mange år, er det mest skræmmende det faktum, at mange kvindelige fagfolk i kunstverdenen også opretholder chauvinismen og giver mandlige kunstnere fordele, uden at de er klar over, at de gør det. Er du også stødt på denne holdning fra kvinder selv i branchen som respons på din samling?
VALERIA: Der har været og er stadig modstand og mistanke om min position og min samling – selv fra kvinder.
AUGUSTA: Tallene er desværre stadig negative for kvinder, kun 2 % af det totale salg på auktioner fra 2008-2019 er værker af kvinder. På kunstmesser og galleripræsentation ligger kvindelige kunstnere stadig på mellem 0-30 % repræsentation. På verdens største kunstmesse, Art Basel, har kvinderepræsentationen ligget på mindre end 25 % de sidste fire år. Ydermere er kvinder stadig meget underrepræsenteret i gallerier, private og museumssamlinger, udstillinger og på kunstmesser. Hvis museerne selv ikke ændrer denne onde cirkel, hvem og hvad kan da?
VALERIA: Desværre er størstedelen af samlerne mænd, som har et problem med kvinder. Mandlige gallerister inkluderet. Kvinder, som har magtfulde positioner inden for kunstscenen – uanset om det er kunstsamlere eller galleriejere – er ofte endnu mindre støttende end mænd. Der er nemlig en konsensus om, at 'det er smigrende' at blive inkluderet i kunstscenens og markedets drengeklub.
Det vil tage meget længere tid for kvindelige kunstnere med stort talent, simpelthen fordi magtsystemet i kunsten endnu ikke er klar til dem. Derfor opdages kvindelige kunstnere ofte, når de er døde eller er i 80'erne. Men det synes jeg ikke, at vi skal acceptere. Vi er nødt til at gribe ind og presse systemet til at anerkende dette problem og være proaktivt.
Jeg hører i branchen mange tale om disse kønsproblematikker, men kun få sætter handling bag deres ord. Der er så meget overfladisk og ikke tilstrækkelig alvor på kunstscenen, især ikke når det drejer sig om gå mod trends og foretage nye valg med oprigtigt engagement, at gøre noget ved situationen og skabe reel forandring.
Det er museernes pligt, først og fremmest, at tage kvindelige kunstnere alvorligt. Derefter følger markedet og samlerne. Hvis museerne ikke går forrest, vil det blive ved med at være meget vanskeligt. Man skulle ikke tro det, men mange museumsdirektører er forført af kunstmarkedet, og markedet støtter ikke kvinder. Det betyder desværre, at mange museer sætter udstillinger op, der afspejler verdens kunsthandleres økonomiske interesser. Denne lille gruppe af kunsthandlere og kunstsamlere, der profiterer på dette, er uden interesse for kvindelige kunstnere.
For at fremme denne ændring og tage det næste skridt er vi nødt til at støtte og opmuntre den akademiske verden til at forske og offentliggøre meget mere forskning om kvindelige kunstneres arbejde. Akademiske institutioner har pligt til at fremme afhandlinger og analyser af kvindelige kunstnere, så eftertiden om ikke andet kan læse kunsthistorien uden kunstmarkedets kønscensur.
AUGUSTA: Kvindelige kunstnere er næsten nødt til at gå tilbage til 'kunstens oprindelse', undersøge brugen af ​​kunstværket gennem tiderne og derved gradvis opfinde deres eget sprog i lyset af århundreder med traditioner, opfindelser og opfattelser. Din samling er en del af denne innovation. Planlægger du et online-arkiv eller en bog om din samling?
VALERIA: Min samling er allerede katalogiseret i vores arkivsystem, men ikke tilgængelig for alle. Men man skal aldrig sige aldrig. Hvis det øjeblik kommer, hvor jeg føler, at en sådan udgivelse er meget nødvendig, så vil jeg overveje det.
AUGUSTA: Steder i Danmark som blandt andre Cisternerne, HEART og Copenhagen Contemporary har et udstillingsprogram med overvejende mandlige kunstnere. Det er ikke repræsentativt for de mange dygtige kvindelige kunstnere i ind- og udland. Hvad angår indkøb af kvindelige kunstnere på museerne i Danmark, er tallene desværre heller ikke gode endnu. I hele perioden 2004 til 2019 var erhvervelser af værker af kvindelige kunstnere: 22 %. Antal kvindelige kunstnere vist på soloudstillinger: 29% Tallene er bekymrende, fordi det netop er museerne og kunsthallerne, der skal gå forrest. Først derefter kommer gallerierne og køberne ind i billedet. Du tager den modsatte vej, trods tendenser på museer og auktioner. Møder du kritik undervejs?
VALERIA: Efter i mange år at have støttet kvindelige kunstneres arbejde besluttede jeg mig for en mere radikal tilgang. Jeg lancerede ValeriaNapoleoneXX i 2015; XX står for det kvindelige kromosom og også for partnerskab. ValeriaNapoleoneXX er en paraplyplatform for projekter og initiativer, der arbejder for at øge anerkendelsen og valideringen af kunstpraksis fra kvindelige kunstnere gennem samarbejde og partnerskaber med institutioner og enkeltpersoner i samtidskunsten.
XX har tre igangværende partnerskaber. I Storbritannien samarbejder XX med Contemporary Art Society og finansierer hvert år anskaffelsen af et større kunstværk af en kvindelig kunstner, der så doneres til et regionalt museum i England. I USA samarbejder XX med SculptureCenter og finansierer hvert år produktionen af et værk af en kvindelig kunstner i sammenhæng med en separatudstilling. Ydermere samarbejder XX med New York University's Institute of Fine Arts og finansierer to separatudstillinger om året af en kvindelig kunstner. Udstillingen er kurateret af et team på fire kuratorer valgt blandt ph.d.- og kandidatstuderende. Disse kuratorer er også ansvarlige for at udvikle et uddannelsesprogram bestående af seminarer, diskussion, tekster og foredrag.
AUGUSTA: Jeg har mødt enkelte mandlige kunstnere og kvindelige kuratorer, der føler sig truet af det momentum, der er opstået for kvindelige kunstnere siden #metoo-bevægelsen. Hvorfor tror du, folk er bange for ligestilling?
VALERIA: Disse mænd mangler et reality check! Personligt har jeg nul tolerance for denne reaktion fra mandlige kunstnere. Det er faktisk ganske fornærmende.
Denne tankegang er selvcentreret og selvretfærdig med total glemsomhed om, hvordan kvinder har været totalt usynlige og skrevet ud af kunsthistorien i hundredevis af år. Faktisk altid.
Disse mandlige kunstnere er nødt til at udvikle en viden om kunsthistorien og nutidens data og det virkelige liv. For desværre er vi stadig langt fra ligestilling inden for samtidskunsten.
Hvis vi en dag har ligestilling på kunstscenen, vil mandlige kunstnere have akkurat de samme muligheder som kvinder – jeg spekulerer på, hvor truede disse mandlige kunstnere, som du refererede til, så ville være.
Hverken du, jeg eller #metoo-bevægelsen siger, at kvindelige kunstnere skal have flere privilegier end mænd. Helt omvendt. Vi arbejder netop for lige rettigheder for mænd, kvinder og andre. Hvis mandlige kunstnere føler, at de er i den 'forkerte kategori' lige nu (mand og hvid), så lad dem opleve, hvordan du (kvinde) har haft det i den 'forkerte kategori' siden begyndelsen af den vestlige og europæiske civilisation.
Vi arbejder og kæmper for en verden, hvor museer og kuratorer giver lige muligheder for mandlige og kvindelige kunstnere. Dette handler ikke engang om køn eller race; det handler om at tillade stor kunst.
Jeg er meget stolt over at fungere som formand for Development Committee Studio Voltaire, den mest innovative non-profit-organisation i London. Jeg har støttet dem i de sidste 15 år. Studio Voltaires program fokuserer slet ikke udelukkende på kvindelige kunstnere. Jeg har aldrig forstået, hvorfor vi går glip af så meget talent bare på grund af køn. Det er på tide, at vi snart kommer ajour med vores tid, er ligestillede og slipper helt af med denne debat om køn, netop fordi der ikke er brug for at tale om det mere, når alle er lige uanset race og køn.
AUGUSTA: Som et resultat af den alvorlige naturkatastrofe som følge af ​coronavirus i hele verden, på hvilken måde tror du så, at kunstscenen vil ændre sig?
VALERIA: Denne krise har, vigtigst af alt, afsløret skrøbeligheden i vores globale system. Vi er nemlig alle sårbare og sammenflettede, og nu er vi nødt til at være innovative og komme med nye løsninger. Vi er nødt til at genoverveje mobiliteten og måden, vi gør tingene på og lever vores liv.
En vigtig lektie er, at vi skal respektere vores planet og stoppe al overflødig rejsen. Kunstverdenen især, med alle sine tusinder af årlige arrangementer, kunstmesser, biennaler, åbninger. Kunstverdens logistik er blevet en industri, masseturisme og ekstremt forurenende.
Denne krise vil tvinge os til at genoverveje den måde, vi producerer og udstiller kunst på.
Lad os gå tilbage til vores lokalsamfund, støtte og engagere os i det, der er omkring os. Måske endda tilegne os en ny god tilgang og have langsigtede perspektiver i alt. Det hurtige tempo på kunstmarkedet i de senere år er blevet uholdbart og forkert. For eksempel er målet med et kunstgalleri ikke kun at skabe kortvarig profit og økonomiske spekulationer. Galleriets kerneopgave er at hjælpe kunstnere med at udvikle deres praksis, nå museerne, muliggøre opkøb ind i store kunstsamlinger og skrive sig ind i kunsthistoriske bøger, samt at yde støtte gennem både de gode og de dårlige tider i hele en kunstners liv. Sidst, men ikke mindst, håber jeg, at disse udfordrende tider får os til at indse, at den gamle chauvinistiske verden og dens holdninger er en del af den gamle verden, ikke den nye.
AUGUSTA: Tak for din tid, Valeria.
---
Se mere på augustaatla.com og Augusta Atlas Instagram-profil, der promoverer kvindelige malere: @womenpainters
Augusta Atla er dansk billedkunstner og hendes værker findes i øjeblikket i udstillingen Astrid Holm & Co i Rønnebæksholm 8. februar – 14. juni 2020. Den indendørs del af udstillingen er i øjeblikket lukket på grund af Coronavirus, men Augusta Atlas kunstværker, der er placeret udenfor i Rønnebæksholms have, er i hele udstillingsperioden åbne for offentligheden.
---