SHOWDOWN WITH THE SEXISM OF THE DANISH ART SCENE. Article by Augusta Atla, 23 March 2021


0
0
Read Time:
14 Minute, 58 Second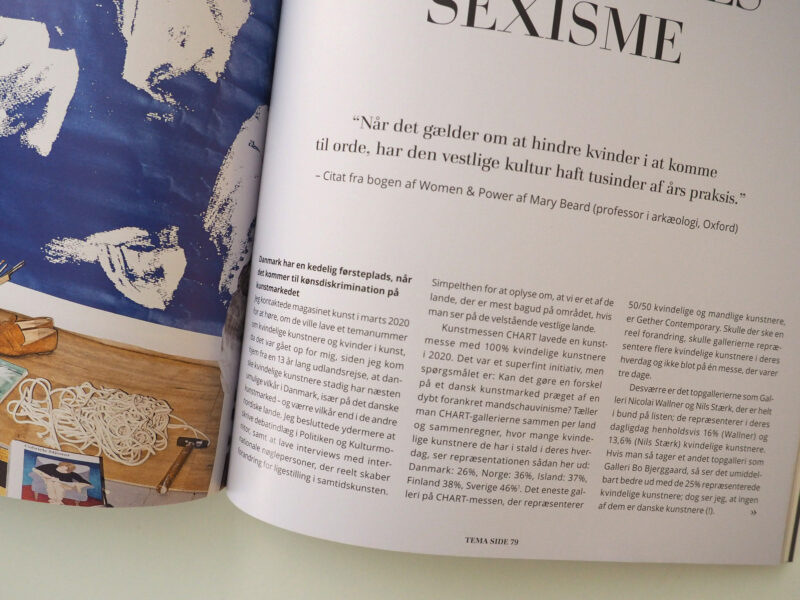 "When it comes to silencing women, Western culture has had thousands of years of practice."
Quote from Women & Power by Mary Beard (Professor of Classics, University of Cambridge
Lamentably, Denmark comes first when it comes to gender discrimination in the art market.
In March 2020 I contacted Magasinet Kunst, asking them whether they would be interested in a theme-based issue about women artists and women in art. On my return to Denmark from a 13-year trip abroad, I became aware that Danish women artists still have almost impossible conditions in Denmark, especially in the Danish art market – worse conditions, in fact, than in the other Nordic countries. I also decided to write contributions to the debate in Politiken (a major Danish national newspaper) and the digital magazine Kulturmonitor, and to conduct interviews with international key people who actually create change in terms of gender equality in contemporary art. I simply wish to make the people of Denmark aware that, as a prosperous Western country, we are lagging far behind in the contemporary art scene.
In 2020, the CHART art fair was 100% dedicated to female artists. It was a brilliant initiative. But the question remains: Can it make a difference in a Danish art market that is pervaded by deeply-rooted male chauvinism? If you look at the CHART galleries country by country, and add up the percentage of female artists they usually have on their books, this is the result: Denmark: 26%, Norway: 36%, Iceland: 37%, Finland 38%, Sweden 46%. The only Gallery at the CHART fair, which represents an equal number of female and male artists, is Gether Contemporary. If there we to be a real change, the galleries would represent several female artists on a constant basis; not merely at one three-day fair.
Unfortunately, the top galleries such as Gallery Nicolai Wallner and Nils Stærk are at the bottom of the list. They represent 16% (Wallner) and 13.6% (Nils Stærk) female artists respectively. If you take another top gallery like Galleri Bo Bjerggaard, the situation is somewhat better. They represent 25% female artists. However, I notice that none of them are Danish (!).
If you look at more national data, such as acquisitions of works by female artists by museums in Denmark, the figures are not yet good. Between 2004 and 2019, the number of acquisitions of works by female artists was 22%, and the number of female artists shown at solo exhibitions was only 29%.
What is more, we only have to look back at 2003, when the conference Før usynligheden: En conference om ligestilling i kunstlivet (Before Invisibility: A Conference on Gender Equality in the Art World) revealed that, of artists represented in Denmark's national museums, only 6.5% were women.
It may well be that most people consider Denmark the country of equality and that we have a good reputation as a justice seeker, but in contemporary art and the museum world the opposite is clearly the case. In a TV programme in the 1980s, now in the DR.dk archives, Poul Erik Tøjner (Director of Louisiana of Modern Art) stated that the equality problem would eventually take care of itself, as more women artists graduated from the academies. But, despite the fact that in the last 20 years the Royal Danish Academy of Fine Arts in Copenhagen has had a 50% female intake, this is not what happened. In other words, there must be structural discrimination and some habits that perpetuate a situation, in which male artists are still obviously given priority in the transition form academy to art market.
Take, for example, the Royal Collection of Graphic Art, where they are in the process of counting and listing all the works. In 2020, when they were half-way through, they had counted approximately 240,000 works by 540 women and around 11,000 men. Many people have justified this unbalance in the Royal Collection (and in art history and museum collections in general) on the basis of the fact that I statistically there were no female artists before 1900. The problem is that this is simply untrue. There were female artists before 1900. Yes, there were fewer of them, but they were also erased from history. Currently the Musée de Luxembourg in Paris is showing an exhibition, Women Painters. It features works by some of the other women artists of the past who were not favoured by fortune in their lifetime and were also erased from European cultural heritage. An organisation in Florence, AWA – Advancing Women Artists – finds, archives and restores works by women artists in Italy, to which no one has paid attention: for example, works by the Renaissance artist Violante Cerroti. On the AWA website, they write: Myriad paintings and sculptures by ground-breaking women artists have been overlooked for centuries and many works are currently in need of restoration. Advancing Women Artists is committed to identifying, restoring and exhibiting artwork by women in Florence's museum storages. As of today, compelling artistic treasures continue to be a silent, undiscovered part of the city's creative heritage.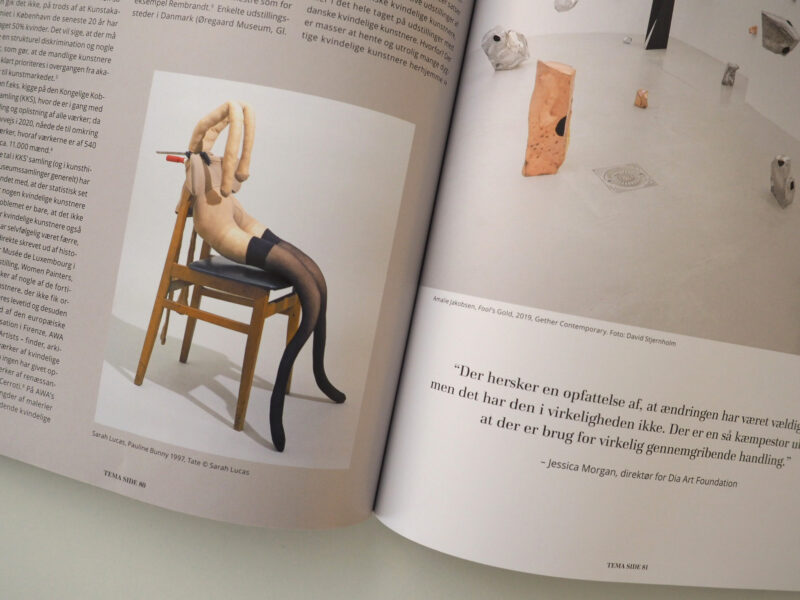 Gender quotas or all power to capital?
It would be landmark if the contemporary art galleries in Denmark began to include female artists, or at the least if Danish museums even researched and unearthed the artists that our cultural heritage deleted. The Rijksmuseum in Amsterdam recently embarked on this task. They have rooted out masterpieces by women artists in their own collection and given them a permanent place in the Gallery of Honour alongside the other great Dutch masters such as Rembrandt. A few exhibition venues in Denmark (Øregaard Museum, Gl. Strand, the National Gallery of Denmark, Louisiana) initiated this trend. However, it will take a lot more research, acquisition for collections and exhibitions of work by women artists before we arrive at a more truthful picture and a more real understanding of both the present and the past.
How desirable it would be if the Danish museums would draw inspiration from artist cities such as London and Paris and start to establish permanent collections for exhibitions of work exclusively by women artists. Tate Britain did so in 2019 with its permanent exhibition, Sixty Years. As did the curator Camille Morineau at the Pompidou Centre for 2 years (2009-2011) with the exhibition Elles@centrepompidou.
Overall, Danish galleries do not seem to represent Danish women artists, and Danish museums do not focus on major retrospective exhibitions of work by contemporary Danish women artists, or, for that matter, on exhibitions of work by Danish women artists in general. Why? There is so much to catch up with, and an incredible number of talented female artists both in Denmark and abroad. This misogyny and cultural heritage are permanent and serious, and result in the loss of a wealth of high-quality art. This bias also leads to one-sided research practice. France introduced 50/50 gender quotas in museums and other cultural institutions that the government subsidises. France simply set up an equal opportunities board for artistic life. It receives figures and data every year, which in turn have an impact on whom they continue to support. Perhaps it is time for the Danish Ministry of Culture and the Danish Arts Council to do the same – to set up a committee to monitor the gender quotas of the institutions that receive state subsidy. Things in Denmark do not change by themselves. Far from it. we have come to a stalemate. This old male-chauvinist structure in Denmark ought to be challenged, because it is probably the capitalism of the art world that is mainly responsible for creating and sustaining it. The question is: should the power remain in the hands of the top international art collectors and auction houses abroad? Or should we rather free ourselves from the art market and actually look at art again with fresh eyes, on the basis of diversity and research?
"There is a perception that change has been so substantial, when the reality is not the case. There is such a huge imbalance that some kind of radical gesture is required."
Jessica Morgan, Director of the Dia Art Foundation

As Caroline Kristensen wrote in Politiken in 2019: "It is one huge myth that the art world is inclusive: men are responsible for 98% of the world's art purchases." Her article was looking at a study conducted by the organisation In Other Words and Artnet News, which focuses on the representation of women in the art world both globally and specifically in the United States. The study was conducted between 2008 and 2018 with the intention of arriving at good news. But it was not to be.
Internationally, the figures are very negative for women. Only 2% of the total sales at art auctions from between 2008 and 2019 were works by women. The research showed that the number of works by women purchased in the United States did not increase over the years, but peaked 10 years ago. As far as art fair and gallery presentation is concerned, female artists still have between 0 and 30% representation. At the world's largest art fair, Art Basel, in the past four years women's representation has been less than 25% .
"Let's take as our basis that men and women are equally good artists, and then say, 'Okay, if they are equal then why is there this difference in the market?' It starts with the galleries. They don't represent enough women in their program. There is also a structural issue: you need to educate collectors and you need to confront them with quality."
Marc Payot, Partner and Vice President, Hauser & Wirth

Museums that create real change and lead the way
There are museums around the world that have begun to rethink and look beyond the power of capital and art collectors in the art world and actually find the talented female artists themselves and introduce female artists into their exhibition repertoire, even with great success. An example is the Guggenheim in NYC. In 2019, when the Solomon R. Guggenheim Museum in New York planned to show an exhibition of works by a little-known Swedish mystical painter by the name of Hilma af Klint, the management feared it would be a flop. Instead, the show attracted more than 600,000 people, becoming the museum's best-ever attended show. It also attracted the youngest audience of any exhibition since the museum started to measure visitor demographics. The show was a huge money-maker in more ways than one. During its run, the Guggenheim saw a 34% increase in membership; Hilma af Klint-themed products accounted for more than 40% of sales at the museum store; and the catalogue sold more than 30,000 copies, setting a new record. The success of the show defied traditional wisdom about what people want to see. After all, this was, an exhibition of work by an unknown, foreign, female artist whose work is unsupported by the market. The Guggenheim museum's data shows a consistent focus over the past ten years, during which 40% of its acquisitions have been of works by women. "It just feels natural at this point," says Nancy Spector, Director of the Guggenheim. "And it is about excellence more than anything else.
The public is often one step ahead of the art world.

"If you do a Gerhard Richter show, people think it will be a blockbuster. It won't be. Whereas Hilma will. Museums at the level of program and board are suffering from being behind the times."
Helen Molesworth, former Chief Curator at the Museum of Contemporary Art, Los Angeles.
Could you imagine Denmark's National Gallery of Art selling a work by Hammershøi to buy works by Danish women artists for their collection?
In recent years, institutions including the San Francisco Museum of Modern Art and the Baltimore Museum made the headlines by selling off work by canonised white male artists to raise money to diversify their collections. The decision by the Pennsylvania Academy of the Fine Arts to auction Edward Hopper's East Wind Over Weehawken (1934) at Christie's for $40.5m was deemed controversial at the time. But the museum and art school went on to use the proceeds from that sale to consistently acquire significantly more works by female artists each year. The museum has also acquired several works by artists of colour. Director Brooke Davis Anderson at PAFA has a five-year plan to tip the scales: its programme will present women artists in 75% of its exhibitions up to and including 2024, while artists of colour will be the focus of 50% of the exhibitions in that same period.
Curators and organisations helping to promote equality in the art world
When will we become genuinely interested in the myriad wonderful, yet overlooked works by women artists, not least for the sake of our humanism? In fact, there are some innovative institutions out there. We just hear very little about them in Denmark. In 2016, Camille Morineau started the AWARE platform, an archive of female artists, funded by the Chanel Foundation. See more on awarewomenartists.com
(I interview Camille Morineau about her work in an article in this magazine.)
Since 2016, the London-based organisation AWITA (https://awita.london) has been bringing inspirational women together – gallerists, curators, art advisors, academics etc. – along with an auction house, a museum, the public sector and art fair professionals. Their goal is to create a supportive community of professional women working in the arts.
Meanwhile, in collaboration with MAXMARA, the Whitechapel Gallery in London has developed a prize that is awarded each year to a female artist.
The future?
When will we seriously integrate into our culture pictures that reflect human diversity and create a comprehensive palette of all our voices?
A thought suddenly occurred to me. What about the Venice Biennale and Denmark's participation every two years? I would love to see data on the number of female artists who have had solo exhibitions in the Danish Pavilion since its start in 1880. And how many of those women were of a different ethnic background?
Simone Leigh will be the first black woman to represent the US at the Venice Biennale. The Brooklyn-based sculptor, whose large-scale works explore black women's stories and histories, will create the exhibition for the US pavilion exhibition in 2022.

The new collectors
But fortunately there is a new generation of art collectors who have chosen to focus on the acquisition of works by female artists. They include private collectors such as Valeria Napoleone in London with XX, her wonderful art project. I had the great pleasure of interviewing Valeria Napoleone in both March and June 2020. London also has the mother-daughter gallerist/collector duo Elli and Millie Jason Foster (Gillian Jason Gallery), who decided to build a collection of works by female artists. Fortunately, this group of collectors is growing. This is exciting to follow.
"The explanation that women [are poorly represented because they] have often decided to leave the art world? I don't believe that for a minute. I think there have been women working hard in the art world forever and if we haven't seen them, then shame on us."
Brooke Davis Anderson, Director, Pennsylvania Academy of Fine Art Museum
Wonderful women artists
When I was 23 years old in 2003, I decided to go to art school in London. I chose Goldsmiths. I did so because, as far as women artists were concerned, Denmark was an outback. At Goldsmiths we had amazing teachers. Not only were there equal numbers of women and men, but they also taught us about feminist art and wonderful female artists: artists I would never have discovered, had I lived and studied in Denmark. They also had a specialist library on female artists: the Women's Art Library. All this knowledge about female artists really helped me find myself. For example, I owe a great deal to artists such as Rebecca Horn and Marisa Merz, both of who were pioneers in the 1960s and 1970s. Studying in London made me understand that women lack their own art history and art theory, even though their works have helped to innovate and expand the field of art. And why should the people of Denmark, visitors to Danish museums, be deprived? There are a myriad of amazing female artists out there whom we are yet to see in Danish galleries, museums and art centres, and so many articles, books and research that are yet to be published.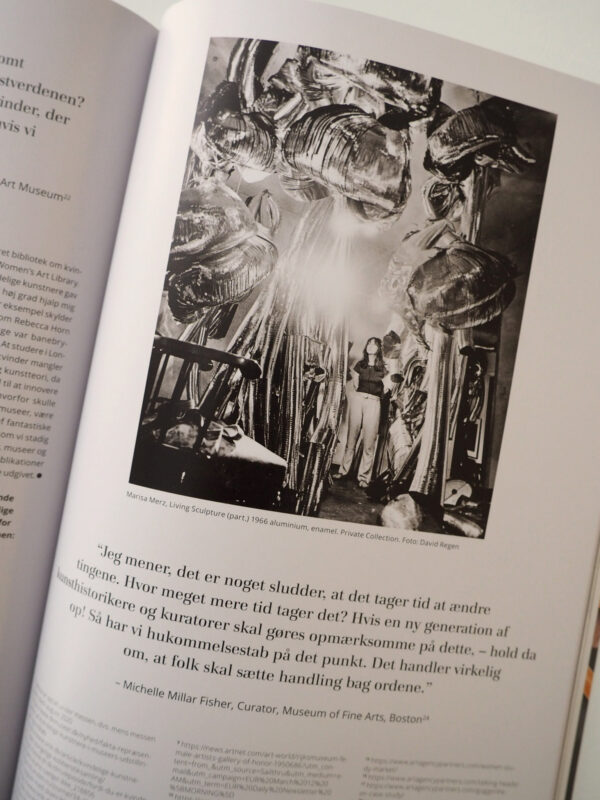 "If somebody has the money, they could make a really big difference really quickly. If you could give a $50,000 prize to fund five books a year on female artists, that's the stuff that drives the market and the museums. To make an artist collectible, you need a catalogue raisonné. It's fairly cheap to fund this compared to how much the paintings would go up in value [as a result]."
William Goetzmann, Professor of Finance, Yale School of Management

"I call bullshit on the idea that it takes a while to see change. How much more time does it take? If a new generation of art historians and curators have to be re-sensitized to this then, my God, We have amnesia at this point. It really comes down to people putting their money where their mouths are."
Michelle Millar Fisher, Curator, Museum of Fine Arts, Boston
---
Augusta Atla's blog features links to, and more information about women artists and worldwide initiatives to promote equality in the art world: women-painters.com https://women-painters.com