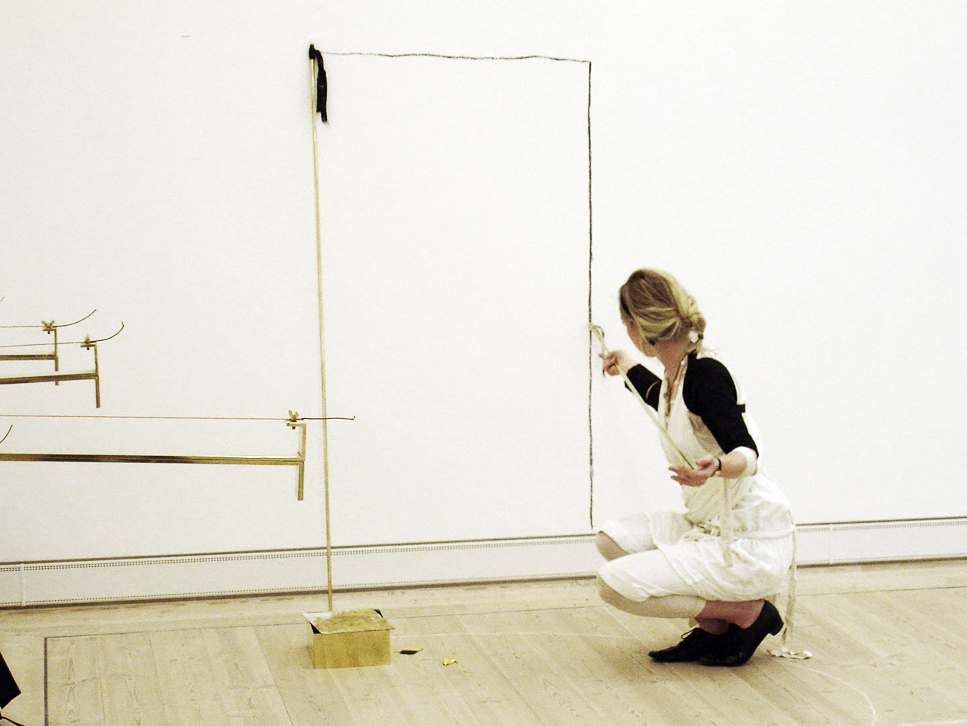 My paintings perform for me, standing outside or respond and make dialogue to the architecture around it – turning painting into a kind of "magical realism" amidst of the Scandinavian dull landscape, history, architecture and soil.
My work is often site specific and created for a particular space and geography.
Part of my work is founded in the studying the practice of the artwork, that is, to investigate how the artwork has been used at different times in our Western culture.

For good and bad, historically, the artwork has underlined our virtues, discussed our philosophical beliefs, enforced our religious ideas, promoted our cultural trends, and has been a method of questioning understandings, mirroring our tragedies and tracing our emotional patterns.This study is to further understand perception, gender issues and how we select and preserve memory, politics and identity.
Selected exhibitions

Rønnebæksholm (dk)
React.Feminism (de)
Viborg Kunsthal (dk)
REMAP4 Contemporary Art Festival (gr)
Fundació Antoni Tàpies (es)
VOLTA ART FAIR (ch)
Horsens Kunstmuseum (dk)
Banja Rathnov Gallery (dk)
Michael Cacoyannis Foundation (gr)
Randers Kunstmuseum, Denmark (dk)
VIR Via-Farini, Milan (it)
I was raised by an art historian mother and exposed from an early age to Western art history, realising that art history was predominately male dominated and chauvinist. Since 1999 I have hoped to create artwork that sheds light and reflects on the structures that go into the invention of paintings in order to make a language of my own, incorporating a woman's experiences and sensations.
My artwork has consisted of brass sculptures, graphics, installations, performance, painting, textile works, drawings, costumes and the invention of tools with which to perform or to make new artworks.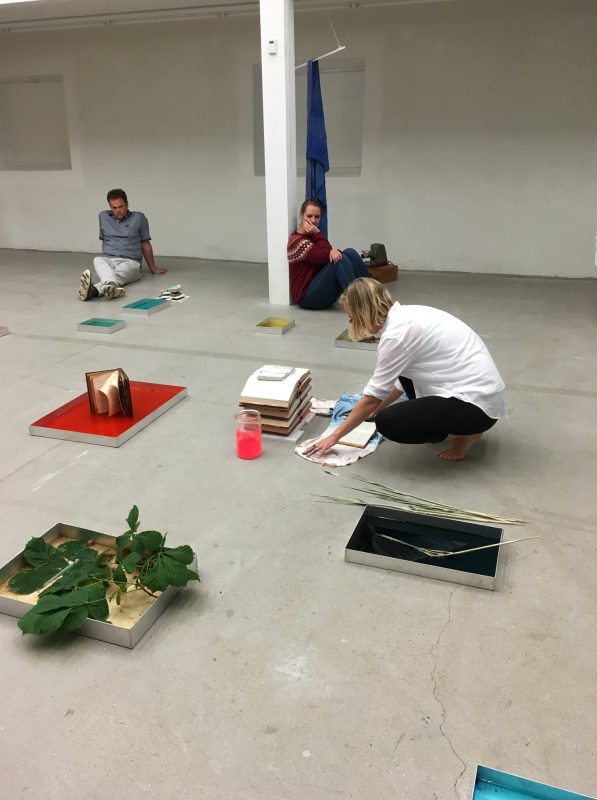 ---
Augusta Atla is born in Copenhagen, Denmark, her childhood was partly in Venice, Italy. Currently lives and works in Copenhagen, Denmark.

She has exhibited widely during the last two decades, including exhibitions at the Danish institutions: Horsens Kunstmuseum, Viborg Kunsthal, Randers Kunstmuseum, Charlottenborg Kunsthal, Museet for Samtidskunst and Brandts.
Exhibitions internationally at the institutions: REMAP4 Contemporary Art Festival, Athens Greece; Fundació Antoni Tàpies, Spain; Tou Scene, Stavanger, Norway; Akademie der Künste, Berlin, Germany; Center for Contemporary Art, Amsterdam, Netherlands; Institut du Monde Arabe, Paris, France; The Danish Institute at Athens, Athens, Greece; Tallinna Kunstihoone, Estonia; Michael Cacoyannis Foundation, Athens, Greece.
From 2007 – 2016, Augusta lived in Venice, Rome, Milan, Paris and Athens, visiting the artworks of the European Masters, researching religious iconography and exploring the history of Greek Antiquity, all of which still have a profound influence on her work.

From 2014 to 2016, Augusta lived full in Athens, Greece, where she founded, curated and ran MAISON d'ART CONTEMPORAIN ATHÈNES / MACA.
Her artworks belong to national collections, e.g. Horsens Kunstmuseum, Denmark, Randers Kunstmuseum, Denmark, The Danish Art Council, Denmark and The Danish Parliament, Denmark.
Augusta received an Award of Excellence from the Fine Art faculty of Goldsmiths, University of London in 2006 and the Horsens Art Museum Art Award in 2007.
Atla has given artist talks and lectures at universities and art institutions at the Academy of Fine Arts in Copenhagen, Princeton University, Accademia di Belli Arte di Venezia, and more.
Atla has been granted "Arbejdslegat" awards by the Danish Art Council in 2011 and 2012. Atla was granted short term atelier at the National Workshops of Copenhagen in 2006, 2008, 2012, 2013 and 2016. Atla has also been supported by Danish private arts foundations and Danish institutions and embassies.
Atla has previously exhibited at the galleries: Gallery Specta (DK), David Risley Gallery (DK), Avlskarl Gallery (DK), Format Art Space (DK), CAN Gallery (GR), Charlotte Fogh Gallery (DK), Banja Rathnov Gallery (DK), Christoffer Egelund Gallery (DK), Change and Partner Gallery (IT), AD Gallery (GR), LMN Gallery (NO).