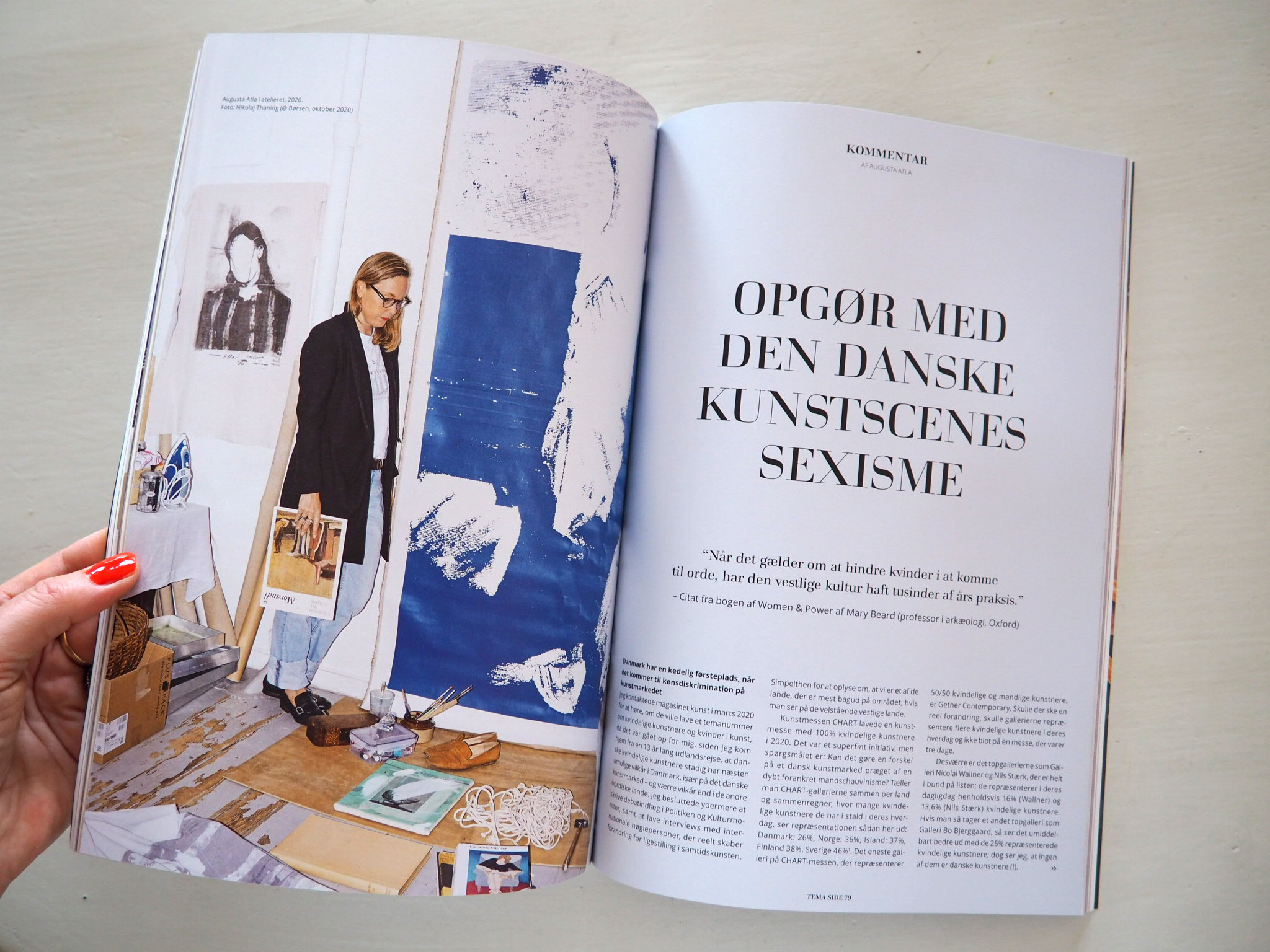 The history of the function of the artwork is a study of how we think, understand perception, gender and the body, and select, value and preserve memory, politics and identity. The practice of painting, for me, is also conceptual – an investigation into the methods of painting and the fundamental philosophical attitudes, historical contexts, traditions and instruments that have shaped painting.

Since Antiquity, for better or worse, the artwork has underlined our virtues, shaped our philosophical beliefs, enforced our religious ideas and, as a vital part of society, traced our emotional patterns and tragedies. Since the Renaissance, art has also served as a method of questioning our perceptions and as a tool for knowledge itself. Finally, in modern times, art has mirrored our identity and promoted or negotiated our cultural trends. Throughout history, work by women artists and feminist work have not been allowed to change and illuminate us and our history, to the degree it was originally meant to.
My artistic research also aims to investigate the power of gender in art.


I promote women painters with the instagram profile @womenpainter


Collaborating with:
CAN Christina Androulidaki GALLERY
Athens, Greece
https://www.artsy.net/can-christina-androulidaki/artists

Føniks Edition
Copenhagen, Denmark
https://foniksedition.com
Augusta Camelia Atla is a visual artist born in 1979, Copenhagen, Denmark.
Currently living and working in Copenhagen.
Augusta received an Award of Excellence from the Fine Art faculty of Goldsmiths, University of London in 2006 and the Horsens Art Museum Art Award in 2007.
Augusta made an art pilgrimage (2008-2016) visiting the artworks of the European Art Masters, researching religious iconography and exploring the history of Greek Antiquity.
Between (2003-2016) Augusta lived in London, Venice, Rome, Milan, Athens, Paris.
From 2014 to 2016, Augusta lived full in Athens, Greece, where she founded, curated and ran MAISON d'ART CONTEMPORAIN ATHÈNES / MACA.
Augusta has exhibited widely during the last two decades, at Danish institutions: Viborg Kunsthal, Charlottenborg Kunsthal, Museet for Samtidskunst, Kunsthal Rønnebæksholm and Brandts. And at international institutions: REMAP4 Contemporary Art Festival, Athens Greece; Fundació Antoni Tàpies, Spain; Tou Scene, Stavanger, Norway; Akademie der Künste, Berlin, Germany; Center for Contemporary Art, Amsterdam, Netherlands; Institut du Monde Arabe, Paris, France; The Danish Institute at Athens, Athens, Greece; Tallinna Kunstihoone, Estonia; Michael Cacoyannis Foundation, Athens, Greece.
Augusta's artwork represented at national collections, e.g. Horsens Kunstmuseum, Denmark, Randers Kunstmuseum, Denmark, The Danish Art Council, Denmark and The Danish Parliament, Denmark.

Augusta has been granted awards by the Danish Art Council in 2011 and 2012. Atla was granted residencies at the National Workshops of Copenhagen in 2006, 2008, 2012, 2013 and 2016. Atla has also been supported by Danish private arts foundations and Danish institutions and embassies.

Augusta has previously exhibited at the galleries: Gallery Specta (DK), David Risley Gallery (DK), Avlskarl Gallery (DK), Format Art Space (DK), CAN Gallery (GR), Charlotte Fogh Gallery (DK), Banja Rathnov Gallery (DK), Christoffer Egelund Gallery (DK), Change and Partner Gallery (IT), AD Gallery (GR), LMN Gallery (NO).

Augusta has given artist talks and lectures at universities and art institutions at the Academy of Fine Arts in Copenhagen, Princeton University, Accademia di Belli Arte di Venezia, and more.
Augusta is also a passionate art critic and writer on gender discrimination issues in the world of contemporary art. Through articles, interviews, artwork production and research (and other intellectual ventures) Atla highlights today's gender discrimination in the world of contemporary art in order to catalyse balance and gender equality now.
Articles published at Politiken, Magasinet Kunst, CHART Publication, Kulturmonitor, Børsen